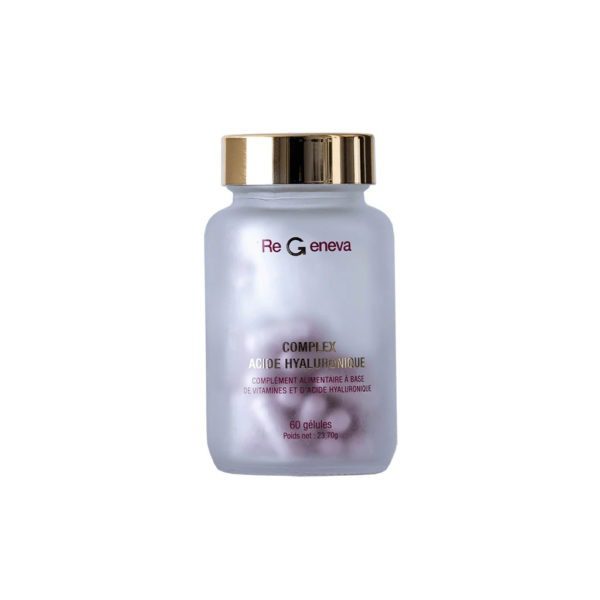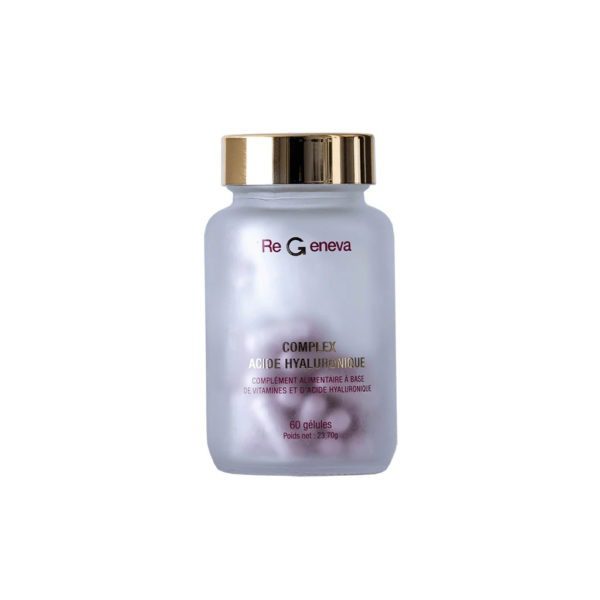 Hyaluronic Acid Complex – 60 Capsules Of Dietary Complement - Free Shipping Included
CHF 59.00
1 bottle

CHF

59.00
2 bottles

CHF

112.10
3 bottles

CHF

159.30
4 bottles

CHF

200.60
Dietary Supplement with Hyaluronic Acid and Vitamins
ReGeneva's Complex Hyaluronic Acid capsules were formulated by Dr. Dauvillaire to extend the benefits of aesthetic treatments. He recommends starting hyaluronic acid capsules at the age of 35 to delay skin aging. The ideal daily dosage is 210 mg, which equates to 2 capsules.
Skin Types : Normal, Combination skin, Dry, and Sensitive
Skin Conditions : Mature, Dehydrated, and Fragile
Usage Advices : Consume 2 capsules daily. Enhance this In routine with the Out Vectorized Hyaluronic Acid
Results : * Provides essential structural support to the epidermis, * sustains tissue hydration levels, * stimulates elastin and collagen production, * and nourishes skin cells.
Details : Hyaluronic acid is a natural component found in various tissues throughout the body. However, as time progresses, its presence decreases significantly. By the age of 50, it's estimated that we retain only half of the hyaluronic acid that our bodies possessed during youth. This decline is a key factor in the development of skin sagging, dryness, and the loss of elasticity.
Hyaluronic acid's significance goes beyond mere skin hydration; it also plays a pivotal role in the reconstruction of the skin's structure…
* Intensive skin hydration, * Soft and supple skin. * Reinforced positive outcomes of an "In" routine. * Suitable for all skin types. * Skin cells protected from oxidative stress impact.
Ingredients : 
Allergens : Contains fish, crustaceans, and mollusks
GMO : Certified non-GMO, in line with regulations 1829/2003 CE and 1830/2003
Ionization : Non-ionized product / Non-irradiated product pursuant to regulations 1992/2 and 1992/3
BSE : Non-BSE, as per regulation 999/3
Pesticides : In accordance with the requirements of regulation 396/2005 and the European Pharmacopoeia
Heavy metals : In accordance with regulation 1881/2006
Microbiology : In accordance with the stipulations of the European Pharmacopoeia 5.1.8 category C.
Nutritional Supplement with Hyaluronic Acid and vitamins. ReGeneva's Complex Hyaluronic Acid capsules were formulated by Dr. Dauvillaire to extend the benefits of aesthetic treatments. He recommends starting hyaluronic acid capsules at the age of 35 to delay skin aging. The ideal daily dosage is 210 mg, which equates to 2 capsules. Skin Types: Normal, Combination skin, Dry, and Sensitive Skin Conditions: Mature, Dehydrated, and Fragile Details: Hyaluronic acid is a natural component found in various tissues throughout the body. However, as time progresses, its presence decreases significantly. By the age of 50, it's estimated that we retain only half of the hyaluronic acid that our bodies possessed during youth…